G Lee Plastering has many years of experience working in skimming. For those who don't know, this is a technique where we plaster your wall by using a layer of thin coat. In the majority of instances, we would introduce it to current surfaces to smooth them and enhance their aesthetic. It is not an easy job, hence why people contact us to handle it.
Skimming is not the same as plastering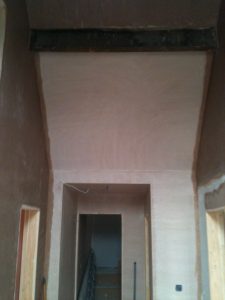 There are differences between skimming and standard plastering. The latter is a tricky and lengthy procedure that involves a trio of plaster coats. Each one requires time to dry before you can apply the next coat. Therefore, you need to have a plasterer on site for longer.
There is only a single coat if you skim a surface. As a result, the job takes much less time. However, the end result can be just as good as if all the old plaster was removed and a plasterer did an entire new coat.
How often do you need to skim a surface?
If your current plaster surface is in decent condition, then you probably won't need to have it skimmed. By decent condition, we mean smooth and without huge chips or cracks. You only really need skimming if the surface has any damage. With a professional service, you shouldn't need any more work for several years unless you damage the wall or ceiling.
Skimming plasterboard or dry lining
If you have dry lining or plasterboard, you have the option of finishing with a layer of skim plaster, decorating, or painting directly onto the board. People typically favour skimming since it offers a superb finish. Furthermore, it adds an additional layer of soundproofing.
Skimming plasterboard or dry lining walls is the perfect way to hide joints between the boards. As a result, the surface will look continuous. A good plasterer will take care to make sure the skim is glossy and smooth.
Choose a great service
At the end of the day, the goal of plastering is to create a decorative surface that strengthens the structure's durability. It also hides the original masonry. A skim finishes your room and offers the perfect canvas for painting or wallpaper. You can also choose decorative finishes and textures.
If you work with G Lee, you can expect exceptional results. Our plasterers have the right training and a wealth of experience. Whether it is skimming a ceiling or wall, we will ensure it looks brand new. We can provide whatever finish you need.
We work all across South Yorkshire, including in Sheffield and Chesterfield. If you need any help from us, feel free to get in touch. For phone calls, the number is 01246 721108. To send an email, please use the address gleeplastering@gmail.com.