G Lee strives to provide the highest quality rendering Sheffield has to offer. We are a specialist company with a team of highly trained tradesmen. We focus on delivering the best service possible. In fact, we guarantee a superb finish. Each member of our team can draw upon a great wealth of knowledge and experience. Therefore, we ensure we exceed expectations on every job. Your property will look fantastic when the job is done.
What is rendering?
The technique uses a render to protect and improve the aesthetics of an external surface. It can boost the weather proofing and preserve the substrate from damage. This includes erosion caused by water and wind.
Renders are available in a range of colours, materials and finishes. As a result, you can give your property a unique, eye catching facade. Rendering was traditionally popular because it could hide poor quality brickwork. Now though, it can create beautiful properties.
A render is a long term investment. It will protect the external walls for many years and bear the brunt of the wear. This is a better option than leaving the substrate exposed and vulnerable. In addition it is more cost effective to repair the render than the materials under it.
First rate rendering Sheffield property owners can count on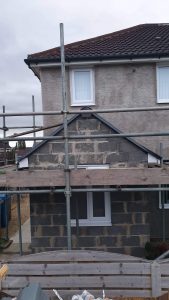 G Lee works on a huge range of properties, from traditional period homes to newer builds. This even includes wooden framed buildings. We can provide a full array of options including pebbledash and smooth surfaces. We also offer repair services to bring damaged renders back to their best. This ensures your property is completely protected against the elements.
If that wasn't enough, we also commit ourselves to improving the standards of workmanship in our industry. We offer our customers a service they can always rely upon. Professionalism and technical ability are our main focuses. We continue to develop the talents of every member of our team. We can provide a fully bespoke service to suit your needs.
Whether you want to improve the aesthetics of your external walls or need additional protection, rely on us. We are the best for rendering Sheffield has to offer. This is as well as a range of superb plastering services. Our team is able to provide consistent, high quality finishes.
To learn more about our services please contact us. You can reach us via telephone at either 01246 72 11 08 or 01246 417656. Or, get in touch via email at gleepastering@gmail.com.