When you need plasterers Sheffield has no team with better skills or experience than us. At G Lee Plastering we are ready to take on all kinds of plaster, rendering and screeding jobs. With more than thirty years in the business, we are a trusted name for all kinds of clients throughout the area. Over the years our reputation has grown and we have built a varied client list, many of whom come to us through recommendations from previous customers. We believe this is a testament to the quality of our work and our commitment to great service.
The smoothest results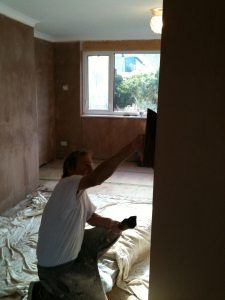 When it comes to plastering, you need a company who can provide even, beautifully smooth results. We can do that, providing the perfect finishing touch on a construction or renovation project. We pride ourselves on the quality of our work. Every job is courtesy of tradesmen with extensive skills and experience.
However big or small the task, we can take care of it for you. From a complete plastering job on a completely new build, to repairing a damaged wall, all tasks will meet the highest standard of workmanship.
Whether you require a completely smooth plaster wall, or want a unique design or style, we have a solution. Our specialist techniques will complete the job so you can achieve the exact look you want for your property. We regularly work on period properties, new builds and modern houses alike. As a result everything we do reflects the requirements of that particular property.
Rely on the best plasterers Sheffield has to offer
After the work is completed we always clean up thoroughly, paying attention to every detail. Therefore we ensure that your property is left in a neat and tidy state.
If you want to work with plasterers Sheffield clients rate very highly, call 07850 622 799. We are happy to offer quotes and advice about how our expertise can benefit your property.