G Lee Plastering provides a range of services to help protect external walls. We work hard to offer the best protective and decorative rendering Chesterfield has to offer. Our team possess extensive knowledge and a wealth of experience working with many types of render. This includes traditional pebbledash, cement and lime based renders, as well as acrylic and insulating renders. That means we can offer a solution for any need.
Why is rendering a good investment?
It is important to protect the external walls of a property from the elements. Over time rain, wind, snow and changing temperatures can damage these surfaces. This then threatens the integrity of the structure. Adding a render is a great way to protect the walls. This can potentially save you money on repairs. In addition, it offers a great benefit in that the render can be custom to give your property a unique facade.
A service for any type of property
Our team can work on all types of properties, from modern houses to traditional homes and even timber framed structures. Our skill at using various types of renders allows us to provide the perfect service to suit your needs. It also means we can cater for the specific needs of your property.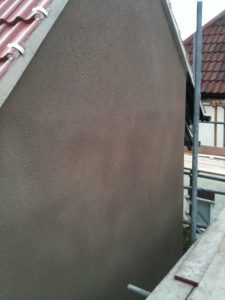 An important consideration to make when choosing the type of render you need is the weather patterns that frequent your location. They will determine the level of protection you need. It is also wise to consider things like the proximity to industry and busy roads. The reason for this is that pollution can also have a big impact on the external walls of your property.
With G Lee Plastering you are guaranteed a great, personalised service. This is as well as full customer support throughout the project. We can also provide repair services if required. Our skills and expertise have been improving over time. They continue to develop to accommodate advancements in technologies and changing customer needs.
We are very pleased to be one of the most highly rated companies for rendering Chesterfield has. You can obtain free advice or an estimate by calling 01246 72 11 08. You can also email your questions to us at gleeplastering@gmail.com. So, get in touch today and we would love to work with you.