If you're searching for first rate services G Lee Plastering could be just the company for you. We are one of the very best for plastering Chesterfield has to offer. Based in Dronfield, just 6 miles north of the town via the A61, we can serve the entire area. We are able to acquire a great deal of business through reviews and recommendations as a result of our professional services.
Good plasterwork is vital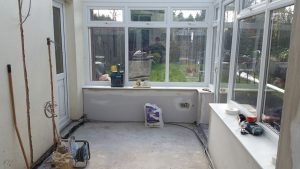 Plastering is an essential part of all properties, providing protection for walls and ceilings. We have spent more than 30 years developing our skills and ability to provide the highest levels of service. Expert tradesmen handle all work and guarantee the best results. As a result your property will look great. We can even incorporate unique architectural designs into plaster. We do this by using specialist techniques to add character.
G Lee Plastering can handle all requirements, from patching up damaged walls to working on a full property. Our team are competent working in both the domestic and commercial sectors.
We have carefully selected the raw materials we use to deliver the highest quality service. In addition, this will ensure your walls and ceilings are as protected as possible. You can see the quality of our workmanship in the durability and crack resistance of our finished walls.
A conscientious service
When we plaster your walls we take specific steps to protect your property and possessions. For one we make sure we cause as little mess as possible. In addition, once the job is finished we clean up the area where we have worked. This returns your property to a pristine state.
If you are looking for a professional company to provide plastering Chesterfield has nobody better than us. Contact G Lee Plastering by calling 07850 622 799. We can provide advice and quotes for jobs.