G Lee Plastering is a specialist company based in Dronfield. We offer our professional services throughout the county. As a result, we provide customers with access to a highly talented team of tradesmen. With our help, you can expect a clean, tidy finish and beautiful smooth walls. That is why we are one of the very best for plastering Derbyshire has to offer.
Comprehensive experience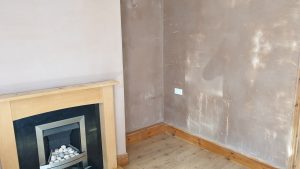 We have specialised in plastering for over thirty years. In addition, we only ever use the highest quality materials. Our team can handle any sized projects, from repairing single walls to full properties and everything in between. We work on all types of property including private residences, commercial premises and public buildings. Every service, regardless of size, is guaranteed a beautiful finish.
We only use the best quality plasters for our work. This ensures you get long lasting, highly durable walls. Plaster has excellent abrasion resistance and also requires very little maintenance. The latter is particularly true when the job is done by a highly trained professional.
Whilst we carry out our service there may be a large amount of mess, especially dust from the dry plaster. We recommend keeping all children and pets away from the area whilst we are working. The purpose of this is to avoid any inhalation of the dust. Once we have completed our service we clean the full area. This leaves your property in great condition.
How long does plaster take to dry?
The drying time varies depending on the ventilation and temperature in your property. Before starting work, we will advise you of the duration of time we expect it to take. Once the plaster is dry, it will be ready to paint. We recommend using a primer before painting. This ensures a great finish and allows for higher levels of colour retention.
For more information about plastering Derbyshire based clients only need to call us. You can reach our team at either 01246 72 11 08 or 07850 622799. We at G Lee Plastering look forward to working with you.