Rendering can make the exterior of a property look incredible. The render can be smooth or have a texture. It can also be a wide array of different colours. As a result you have a great deal of choice and can decide which type and finish is best for you.
The greatest thing about this kind of service is it can protect the property while also improving the aesthetics. The render is an extra layer that can weatherproof bricks and other materials. Generally it has several coatings to make it less likely that the surface will crack.
Professional rendering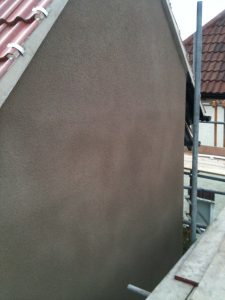 The thing to keep in mind with this kind of service is how valuable a professional job is. The finish will be best when you choose a skilful plasterer. This will also make the material last longer before it begins to show signs of wear and tear.
G Lee Plastering has a lot of experience with rendering. Our team have wonderful skills and have been working in the industry for years. More importantly, they have worked on all kinds of homes, commercial properties and even public buildings. As a result we are ready for any challenge.
Types
There are many different types of rendering to choose from. We have experience of working with all of them, ensuring we can create a great finish.
The most common type is cement render. It is easy to mix on site and usually it will take several coats to get a good coverage. You can paint the surface a choice of colours when it is dry.
Polymer renders are a good alternative to cement. The polymers in the mix give it more flexibility. Usually this type is pre-mixed and already coloured.
Lime renders are a traditional option that is becoming very popular once again. The reason is because the material lets the brick breathe, meaning moisture can evaporate easily. This is beneficial for many reasons, including that it will last longer and ensures the surface is mould resistant.
Some people choose rendering and then opt to paint the surface. However, thorough-colour renders may be a better option. Here colour is added during the manufacturing process so it is throughout the render. As a result there is no need for painting.
The right service
G Lee Plastering is the top team to work with if you want rendering. We serve all of South Yorkshire, including Sheffield and Chesterfield. We can choose the right material and render the property with precision. In addition, we can even advise you on topics like if you need planning permission and how to care for surfaces.
If you want to book a service please contact us.