G Lee Plastering complete various jobs involving plaster and render for domestic and commercial clients. Our skills are broad and we have a wealth of experience with different materials. For example we can offer lime plastering to an expert level.
What is lime plastering?
Lime plaster is a mix of water, sand, and of course, lime. It is often what people call cementitious plasters that contain lime. We tend to use it when trying to conserve period buildings that were plastered with it originally. People also choose it for other projects when they want to reap the benefits of its use.
The advantages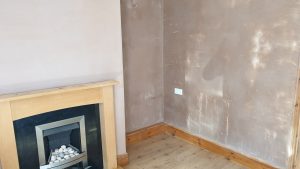 There are many great reasons to choose this kind of plaster. Firstly, it is vapour-permeable, meaning the building can breathe. This reduces the risk of moisture becoming trapped and damaging the fabric of the building.
The porous nature of the material can also allow for a more stable internal humidity by absorbing moisture and releasing it. Thanks to this, the lower surface condensation, and the high pH of the plaster, there will also be mould resistance.
Lime plastering is great if you want it to last. It is incredibly durable and easily withstands the test of time. There are many buildings made from this material that have stood for hundreds of years. It is not as brittle or as prone to cracking as cement plaster is and gives good adhesion to surfaces.
Lime plaster has, to a certain extent, a capacity to self-heal. The mix has a certain amount of 'free' lime. When water penetrates the surface this can dissolve and move. Then, when water evaporates, the lime will be deposited and begin healing cracks. This is great for buildings that suffer with slight ground movements over time.
Finally, this kind of plaster can really improve the aesthetics of the property. The surfaces will have a rich, impressive texture, especially when the light shines on them. In addition, our quality workmanship will ensure the perfect finish.
Expert Application
We provide lime plastering and many other services as a part of our work as reputable plasterers. Our team has extensive experience and skills that enable us to take on jobs of different sizes. We also take care to ensure the new plaster suits the style and period of the property.
We are the people you can call if you want us to complete lime plastering or repair work on your property. Simply give us a call, drop us an email, or fill out the contact form.