If you are looking to renovate your home, or add on an extension, you might be wondering about what to use for the walls and ceilings. People often don't know how to answer when asked whether they will use plaster or drywall. When you need help with questions like this, our team of experts can give you all the advice you need. We are some of the top plasterers Sheffield has so you can expect a great service.
What should you choose?
When deciding between these two options for your job, there are a few different things to consider. For instance, there are factors that play an important role, including the type of property, timeframe, and budget. The right knowledge will help ensure you have a good understanding of the methods, enabling you to choose the best option for you. Both require the right skills to complete as they are not jobs that people can easily achieve quality results with.
Information about drywalling
Drywall has become very popular in the last few years due to it taking less time to install. Consequently, it is often used for constructing new buildings. This system involves the fixing of plasterboard onto wooden studs. This produces a seamless and smooth look.
Once the installation of the sheets is complete, drywall tape and mud are used for the seams and screws. The mud compound must be dry before the sanding of the seams can take place. This will leave you with a lot of white dust but it is fairly easy to clean. Then, there will be a great surface to paint on.
Plastering – a traditional option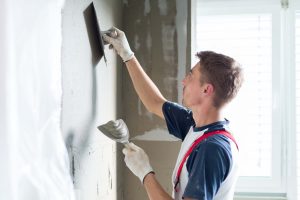 Plaster is something with a lot of history as people have been using it for many years. When it comes to older properties, this is the usual choice because of the fact it offers a strong surface that lasts. Furthermore, many people prefer the look that this offers, even though it can be more expensive due to it involving more labour. If you do want this kind of service though, the best plasterers Sheffield has can help. G Lee offers cost effective services for various needs.
Plastering produces a lot of mess due to the white powder. It can easily get into the air when you open bags of plaster and mix it. Because of this, a lot of work is necessary to keep the area tidy. Small patch jobs might look simple and appear to not take a lot of time to complete. However, they will still require a lot of protection and cleaning.
There isn't much time to spare when work has begun because when plaster starts to dry, it becomes incredibly hard. Because of this, work must proceed quickly to allow for a smooth surface at the end. People can do a lot of work in a single day when they work hard. The plasterer might apply the plaster onto gypsum boards depending on the purpose of the plastering job.
When using drywall boards or greenboard rather than gypsum, sheets need painting with a particular bonding agent before applying plaster. The reason for this is that gypsum board is plaster ready, whereas drywall is not. This agent is expensive so it is important to make sure the right boards are used for the job at hand.
Need help from some of the finest plasterers Sheffield has?
Plastering is a trade that requires highly skilful workers. These people spend years learning the trade despite how often people underestimate their work. However, the benefits of an expert service are great as people can enjoy smooth, long-lasting finishes.
We can help with your job, whether it is plastering or drywalling that you are after. All you need to do is reach out to us for a quote and you will be able to work with some of the finest plasterers Sheffield has. G Lee Plastering would love to hear from you.